If you consistently do not have a ton of time to make dinner or if you don't always feel like preparing meals so you get takeout, then I have a solution to your problems. It is time for you to start making freezer meals! They are amazing for so many reasons and beneficial to any type of lifestyle that you lead.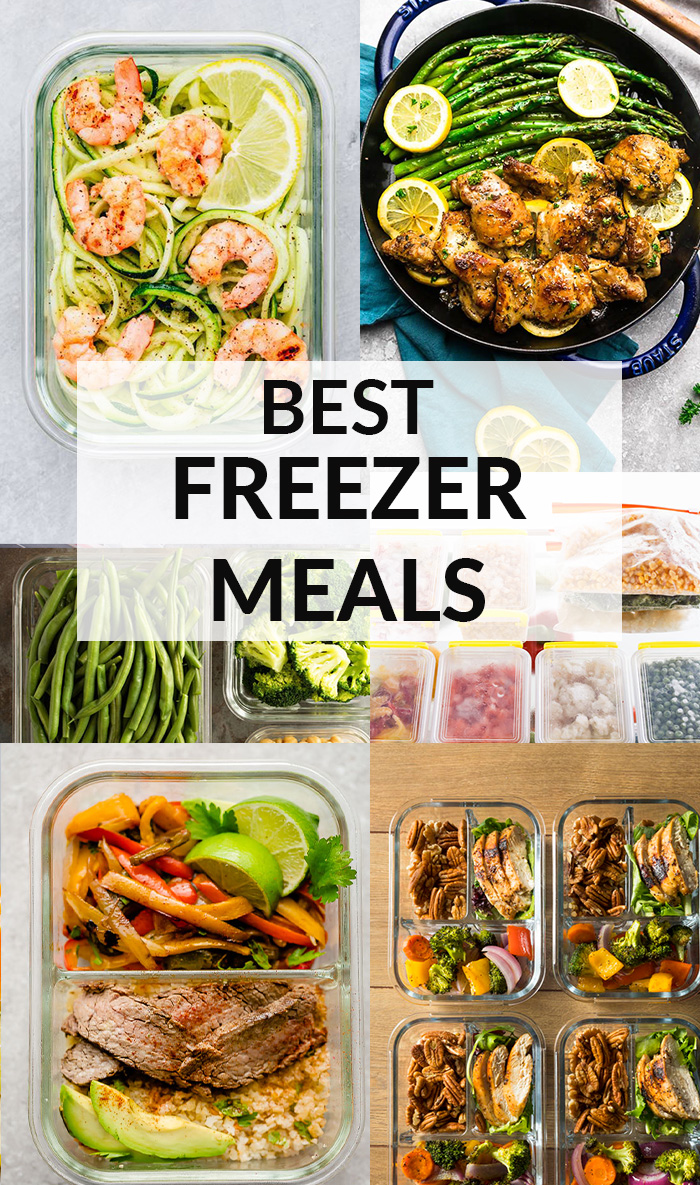 FREEZER MEALS
There is a big difference between freezer meals and store-bought frozen meals. Freezer meals are made by you, so you get to choose exactly what kind of healthy foods and ingredients you put into the recipe. Store-bought frozen meals can be very processed and do not have a huge nutritional value. By preparing the meals you store in your freezer yourself, you have complete control over how many portions of each ingredient you have and you can make sure every recipe is compliant with the foods you love.
WHY YOU NEED FREEZER MEALS
Meal-prepped freezer meals are going to be a healthier alternative to the store bought processed freezer meals. By creating your own freezer meals you will know exactly what foods you are eating and you will know that it isn't processed food. Plus, at the grocery store you can buy fresh produce to use in the meals you make at home.
Ultimately, you will spend less money because you will be making meals in bulk with the food you buy at the grocery store. If you have meals already made at home you will not feel the need to grab takeout as often.
Homemade freezer meals are a great option when you are having guests over. If you want to heat up the primary entrée you have in your freezer, then you can focus on preparing other parts of the meal, like sides, appetizers or desserts. Having meals premade in your freezer is an easy way to reheat food and have a delicious meal ready to eat in no time!
Freezing food that you have meal prepped is a great way to keep food fresh for longer. The shelf-life of food increases when it is stored in the freezer, so you will have delicious meals ready to heat up that can be stored longer in the freezer than it can in the fridge or pantry.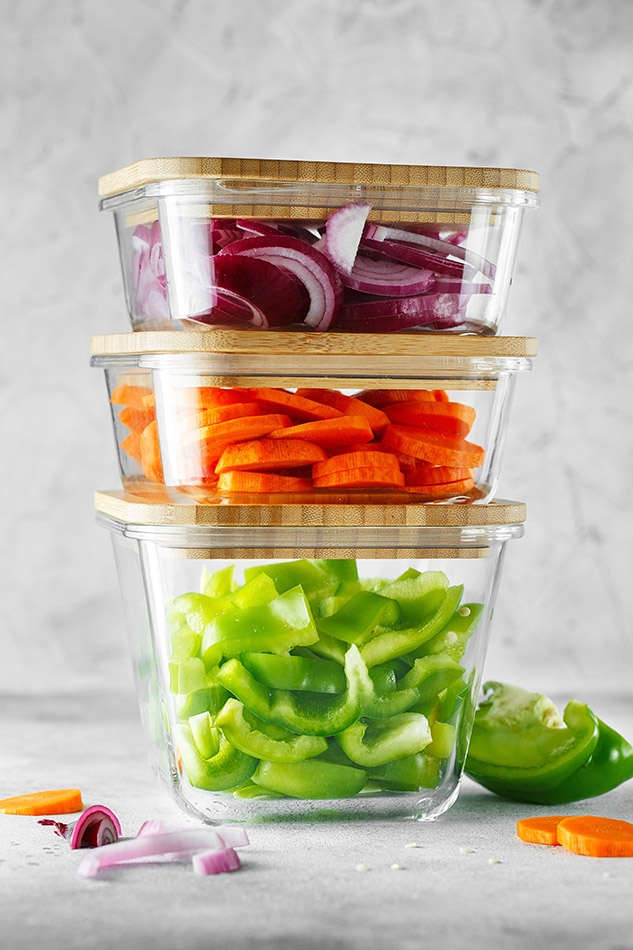 FREEZER MEAL PREPARATION
You can take time out of your day to meal prep a ton of different meals and put them into serving size containers. This is similar to meal prepping food to store in your fridge, but instead you will store it in the freezer to keep it from expiring as quickly and you will have more time to eat the meals.
If you are making a meal for dinner, increase the amount of ingredients you use so you can cook in bulk. A great example if this is when you make soup or stew. Making more than one serving is an amazing way have a meal ready now and many meals ready for later because you will be dirtying the same amount of dishes, except you will have many meals to enjoy in the future. Having a big batch of a meal in your freezer is a great option for when you have guests because then you can heat it up and serve.
FOOD STORAGE OPTIONS AND TIPS
What type of container you choose to store your food in depends on a couple things. What type of food you are storing, how you want to reheat it later, and how much room you have to store everything. It is important that you store food in the freezer correctly, otherwise it could end up with freezer burn or your freezer could end up with a weird stench and we don't want that!
Freezer bags: The most famous option. They are easy to stack in the freezer, so they take up less space than other storage options.
Containers with lids: These are great for storage because they are less waste than others, since you can wash and reuse them constantly. When you use these types of containers remember to leave some space at the top before you put the lid on because frozen food expands.
Here are some containers you should look into:
Glass containers with lids
Enther meal prep containers
Glass jars
When buying storage for meal prepping, check to see the guidelines for freezing and heating. Some containers can only get so hot, so before heating it up, make sure you check.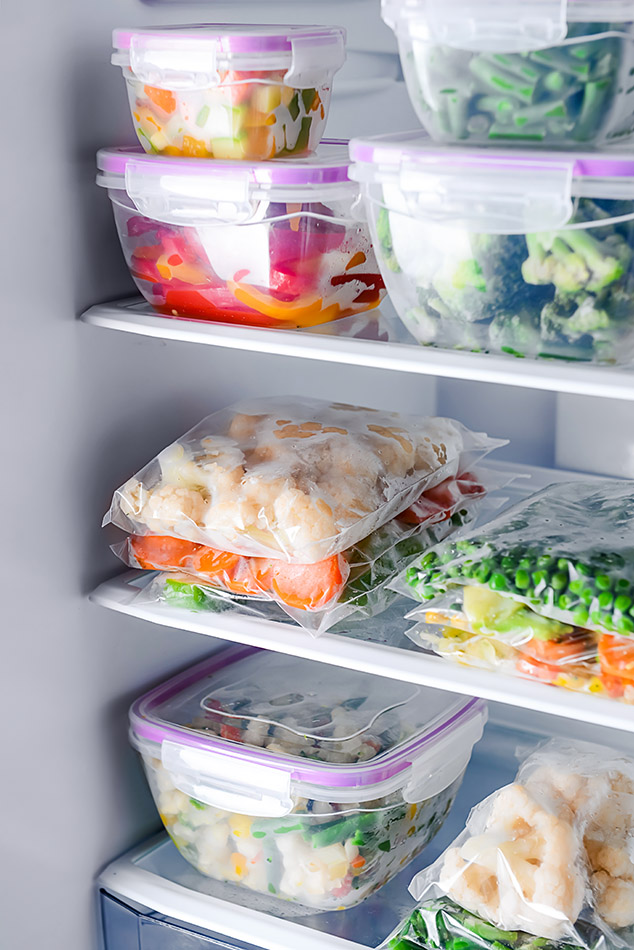 FREEZER MEAL TIPS
Some recipes are better to freeze than others, so if you are not sure whether a food item or recipe is good to freeze, look it up!
When you cook a meal and want to save it in your freezer, make sure that you let the hot food cool down a little before freezing it.
Do NOT thaw foods to room temperature. Thaw foods in the fridge, under cool water or on a defrost setting in the microwave. You might think that you should thaw your food with hot water, but that is not what you should do. The reason you don't do this is because bacteria that may have been present before the item was frozen can begin to multiply.
You don't only need to prepare meals, you can also prepare appetizers, sides, and snacks!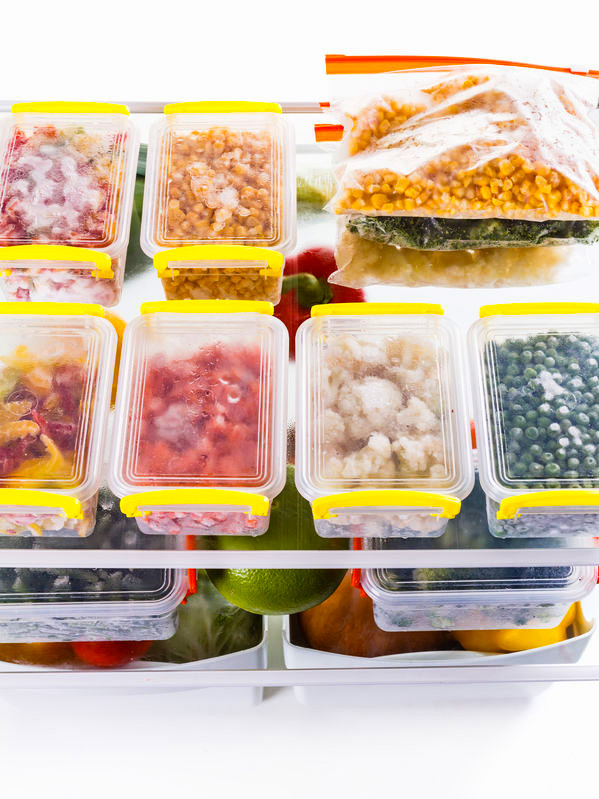 MY RECIPES THAT YOU CAN TURN INTO A FREEZER MEAL
Trust me, there are so many other foods out there to store in your freezer that isn't soup. Soup is amazing, but there are SO many other healthy and delicious meals you can store in the freezer.
If you want a guide and some delicious recipes that are great for storing in your freezer check out my post about what kind of foods you should prepare!
EXTRA MEAL IDEAS TO FREEZE
Soup and lasagna. But, you already knew that, they're only the most famous meals to store in the freezer.
Freeze pasta sauce and meatballs so all you have to do when you want a meal is cook the noodles.
Combine taco makings, then when you want a meal, heat it up and enjoy them on a taco shell or tortilla.
Make homemade ice cream in a food processor or blender and store it in the freezer. That way, when you want a sweet treat you have healthier ice cream already prepared and ready to enjoy!
Freeze your favorite smoothie makings all together in a Ziploc bag so when you want to make a smoothie, all you have to do is dump the bag into a blender, add some liquid and voilà! You have a delicious smoothie.