Easy Almond Butter Recipe – How to make Homemade Almond Butter using your food processor or high speed Vitamix blender. It comes together quickly and makes a delicious snack alternative to peanut butter.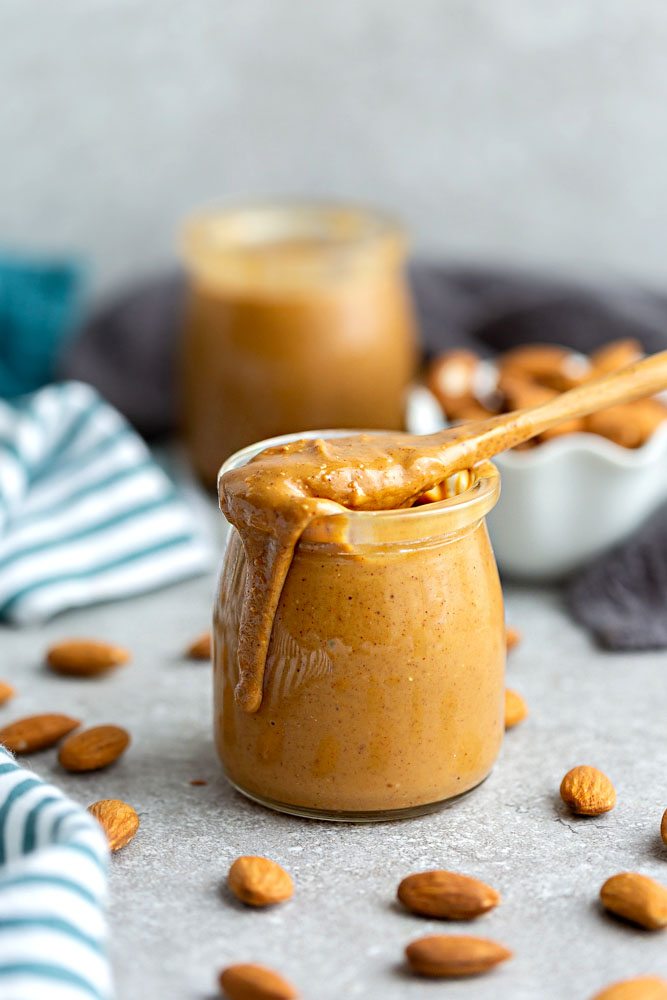 Have you ever made your own almond butter? Homemade almond butter is an easy do-it-yourself recipe that requires as little as one ingredient.
Sure you can buy one easily from the store, but knowing exactly what goes in our almond butter is totally worth it. Plus, homemade tastes better and often cheaper than many brands.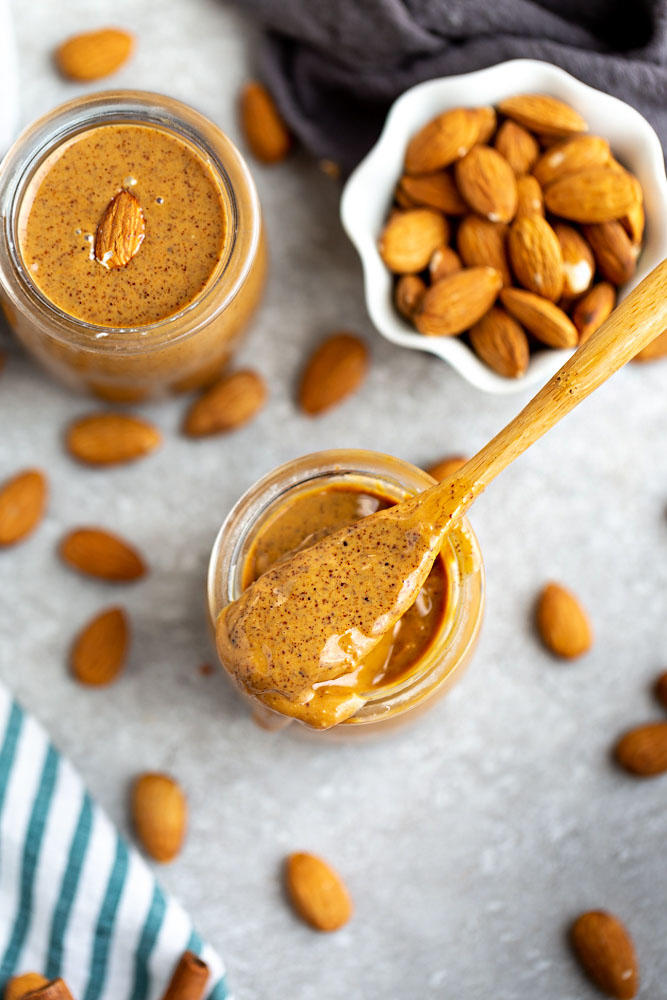 You can even spice up the flavors with what you like:
cinnamon
maple syrup / honey
cocoa power
vanilla
HOW TO MAKE HOMEMADE ALMOND BUTTER
For more flavor, roast the almonds before blending. Roasting also helps the nuts to blend up quicker. Be sure to allow the nuts to cool down before processing otherwise, the concentrated oils may cause your blender or food processor to overheat.
If you make a lot of your own almond butter, investing in a high-speed blender like a Vitamix can save you a lot of time since.
Add a little bit of avocado or coconut oil as needed to help the nuts blend easier.
If you're using a food processor, be patient. It takes a few minutes for the nuts to release the oils and you'll first start to see a crumbly meal-like consistency. Keep processing and scrape down the bowl. After about 5 minutes the nuts will start to clump and the fibers will eventually break down. After about 25 minutes, you'll end up with a creamy nut-butter consistency.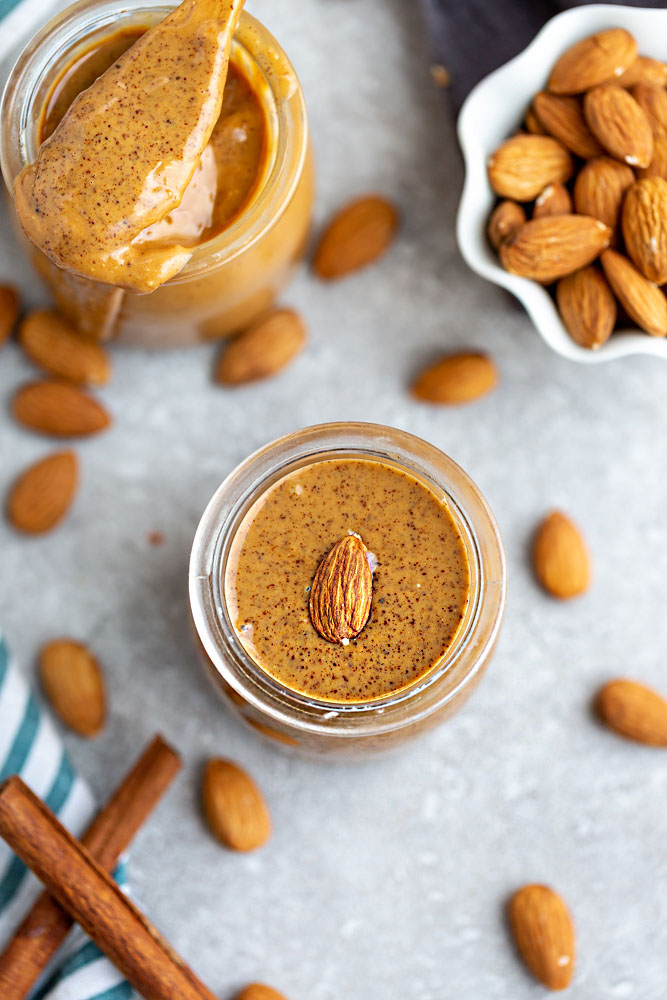 A food processor takes longer to process versus a Vitamix but it works fine when you're making smaller batches, I'll use a smaller food processor like this one.
For larger batches, I always use my handy Vitamix and because it's more powerful, it usually takes less than 3 minutes.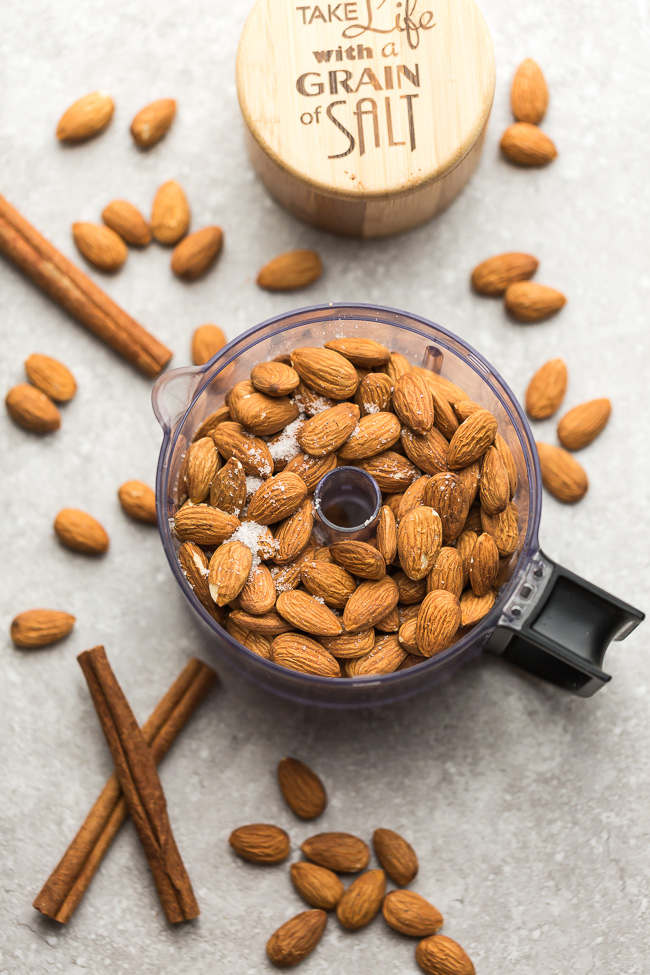 HOW MUCH NUTS DO I NEED TO MAKE NUT BUTTER?
If you're just starting out, smaller batches will be easier to blend or process if you aren't familiar with the process. Start with 2 cups of dry roasted nuts and then once you get a feel for the process and know how much your machine can handle, you can increase the amount.
Two cups of roasted nuts yields about 1 cup of nut butter.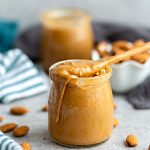 Homemade Nut Butter
Homemade Almond Butter is made with simple pantry ingredients. It comes together quickly and makes a delicious snack alternative to peanut butter.

Ingredients
8

ounces

(2 cups) raw almonds (can also buy preroasted almonds)

1/4

teaspoon

Himalayan sea salt

to taste

avocado oil or coconut oil

optional & to taste, depending on consistency desired
Optional add-ins:
ground cinnamon

to taste

sweetener: maple syrup

honey, monk fruit , to taste

shredded coconut

to taste
Instructions
If toasting the almonds, preheat oven to 325 F and spread a single layer of nuts on a large-rimmed baking sheet. Toast for 10-15 minutes, mixing half-way.

Remove from oven and allow to cool for 15 minutes, until no longer hot (warm is okay).

Transfer the nuts to a high-powered blender like a Vitamix (fitted with the four-blade attachment) or a food processor. Process on high speed until smooth and creamy, scraping down the sides of the bowl frequently. Depending on the type of nut and your machine, this may take anywhere from 5-15 minutes. Be patient and continue to blend and scrape down the sides, the mixture will come together after the dry paste forms. You can add a bit of oil to help the process or depending on the consistency desired. If the mixture gets too hot, you can pause for about 5-10 minutes and resume again.

Once the mixture is creamy, you can add any desired salt, sweetener or add-ins of your choice.

Allow to cool down slightly before to a glass jar. Seal and store in the refrigerator for up to 3 to 4 weeks.
Nutrition Facts
Homemade Nut Butter
Amount Per Serving (1 tablespoon)
Calories 95
% Daily Value*
Total Carbohydrates 8g 3%
Protein 3.8g 8%
* Percent Daily Values are based on a 2000 calorie diet.