Instant Pot Rotisserie Chicken –  this recipe turns out perfectly tender and juicy chicken that you can make easily at home. Best of all, includes instructions for thawed, frozen and the oven.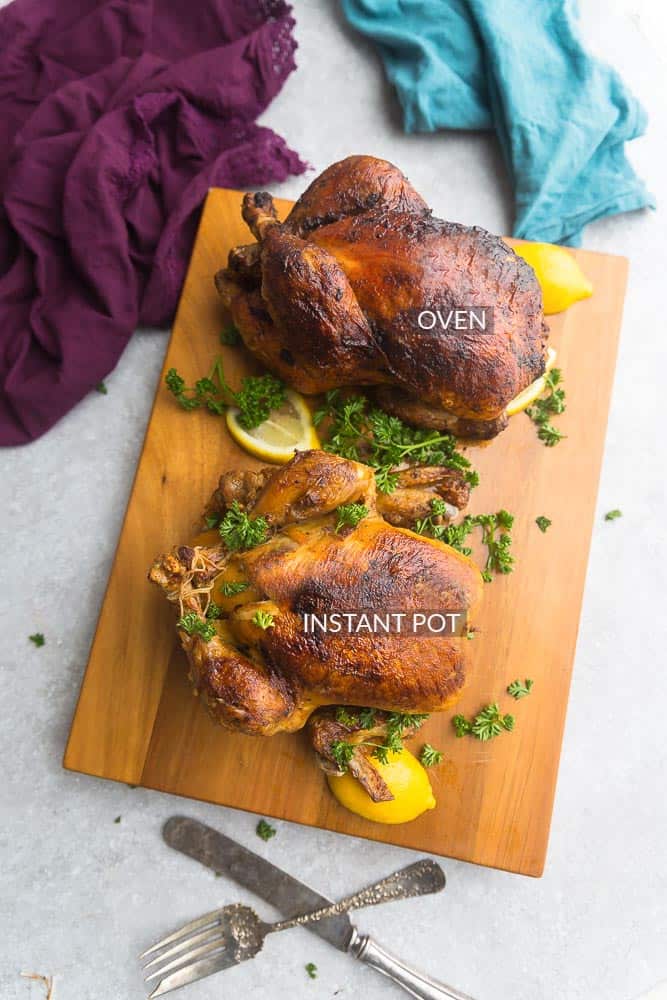 Rotisserie chicken has been one of my favorite things to make ever since going keto. That perfectly crispy skin gets me every time. Ever since getting my Instant Pot, I love how quickly I can make a whole chicken now.
It's so much healthier and tastier to make your own rotisserie chicken at home that the ones you pick up at the grocery store.  Plus, making your own Instant Pot Rotisserie Chicken means you can make a batch of bone broth afterwards. For the leftovers? Just store them  in the fridge or freezer (up to 3 months) to use in tacos, sandwiches, casseroles, soups and more to enjoy throughout the week.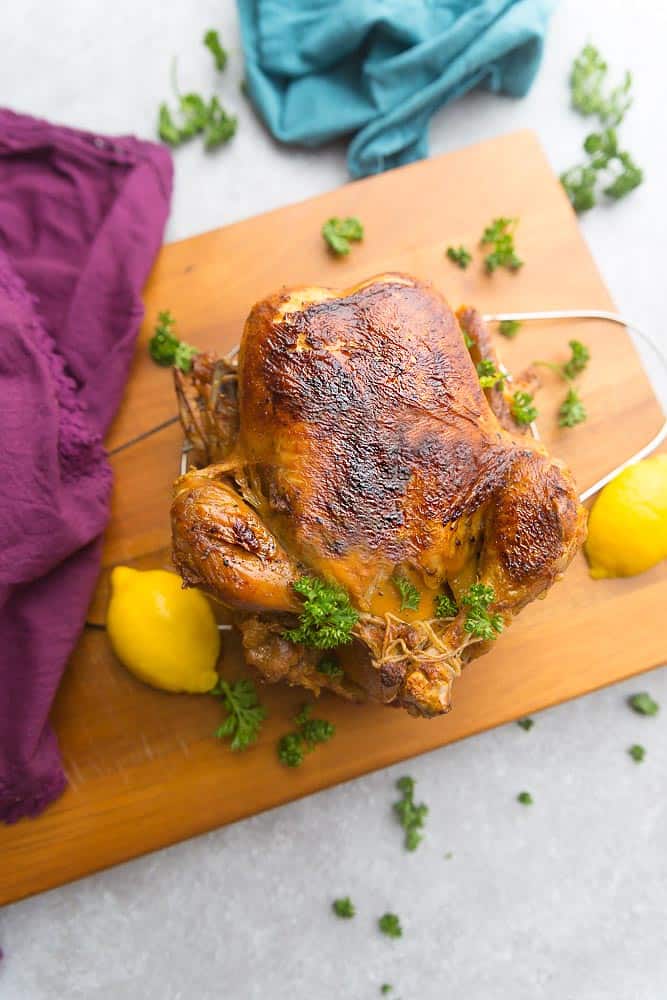 As you can see, I made two whole chickens – one in the oven and one in the Instant Pot to compare the difference.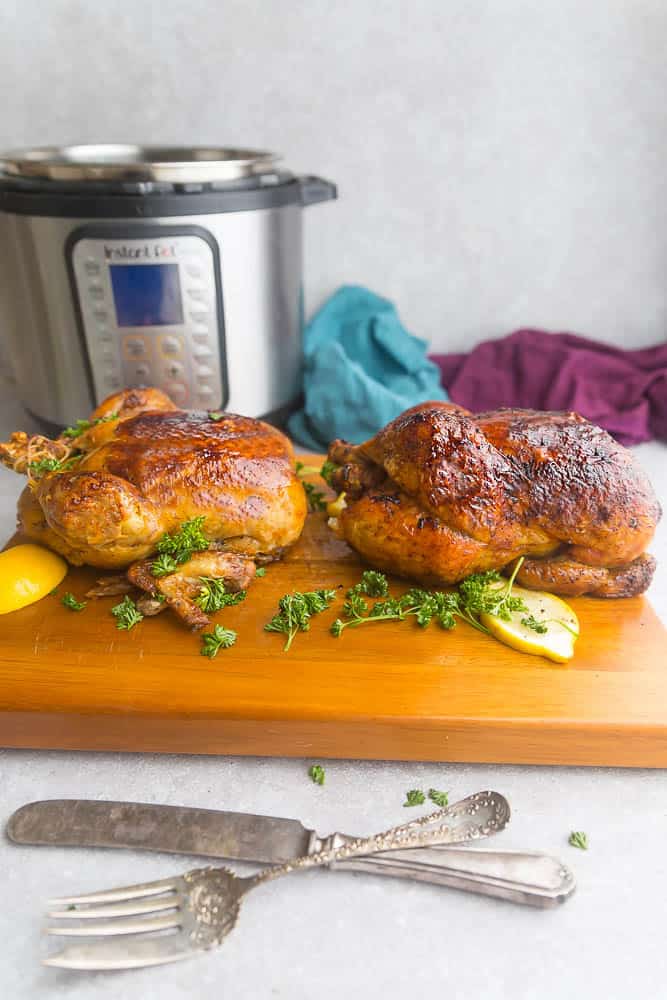 What's amazing is the Instant Pot can even cook the whole chicken from frozen in about 60 minutes. And the meat cooks up super soft, tender, juicy and fall of the bone delicious! Serious game changer!
SO HOW DO YOU MAKE A WHOLE ROTISSERIE STYLE CHICKEN IN THE INSTANT POT?
First, you're going to loosen the skin underneath and rub the entire chicken with olive oil followed by the seasonings. This ensures that your chicken is seasoned properly with flavor and not bland. I like to use salt, black pepper, garlic powder, smoked paprika, chili powder thyme and basil. Feel free to use any combination of herbs and spices you like!
You can add a lemon, some garlic and an onion in the cavity the chicken. This adds flavor to the the chicken and helps the chicken stay juicy and moist inside. This is totally optional so feel free to skip this step if you prefer.
Turn the Instant Pot to saute and heat up the remainder of the olive oil. Carefully add the chicken – breast side down and allow to sear/brown for about 5-6 minutes, or until brown. Using tongs and a spatula, carefully flip the chicken over to the other side. Cook undisturbed for another 5-6 minutes until brown.
Carefully remove the chicken and place the trivet (mine came with the Instant Pot but you can also use your own if you have another one) at the bottom. Pour in chicken broth, stock or water
Rub chicken with remaining seasoning and place on top of the trivet, breast side up.
Cover with lid, and turn the valve to SEALING
Press MANUAL or PRESSURE COOK for 24 minutes for a 4 lb chicken. (For a every pound of chicken, multiply that by 6 and you'll get the time. E.g. 3lb chicken – 18 minutes & 5 lb – 30 minutes.
To cook a whole FROZEN 4 lb chicken – set the time to 35 minutes
It will take some time for the Instant Pot to come to pressure
Once the chicken is done and the timer beeps, allow the pressure to release naturally – about 15-20 minutes.
Transfer chicken to a large platter or a cutting board. Discard onion and lemon.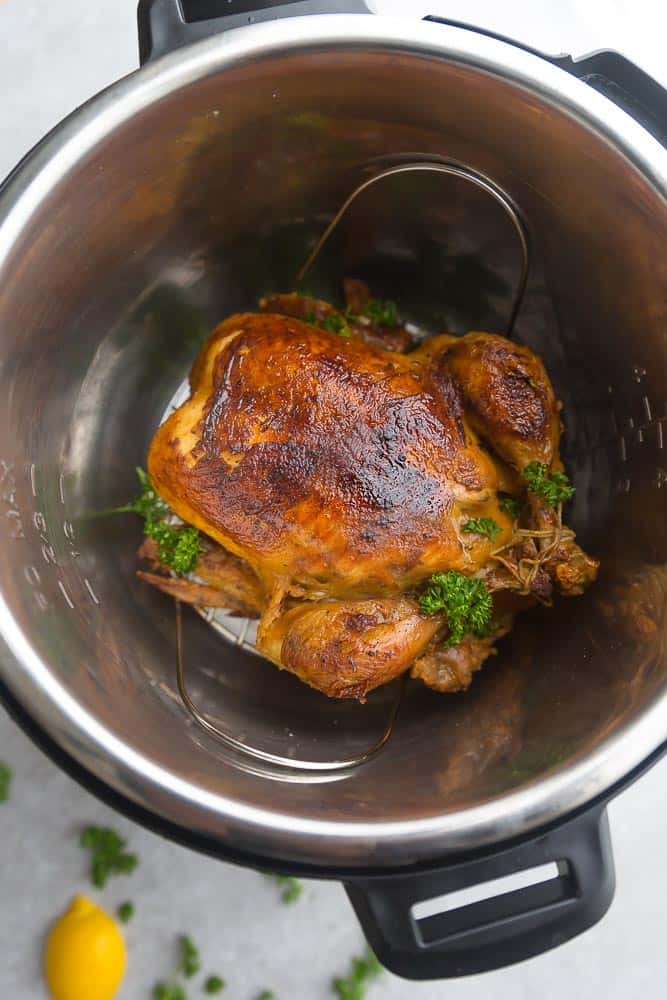 This Instant Pot Whole Rotisserie Chicken cooks up perfectly tender and juicy and can usually get you about 6 cups of chicken. Slice or shred up the breasts and divide the legs and wings to serve with your favorite sides.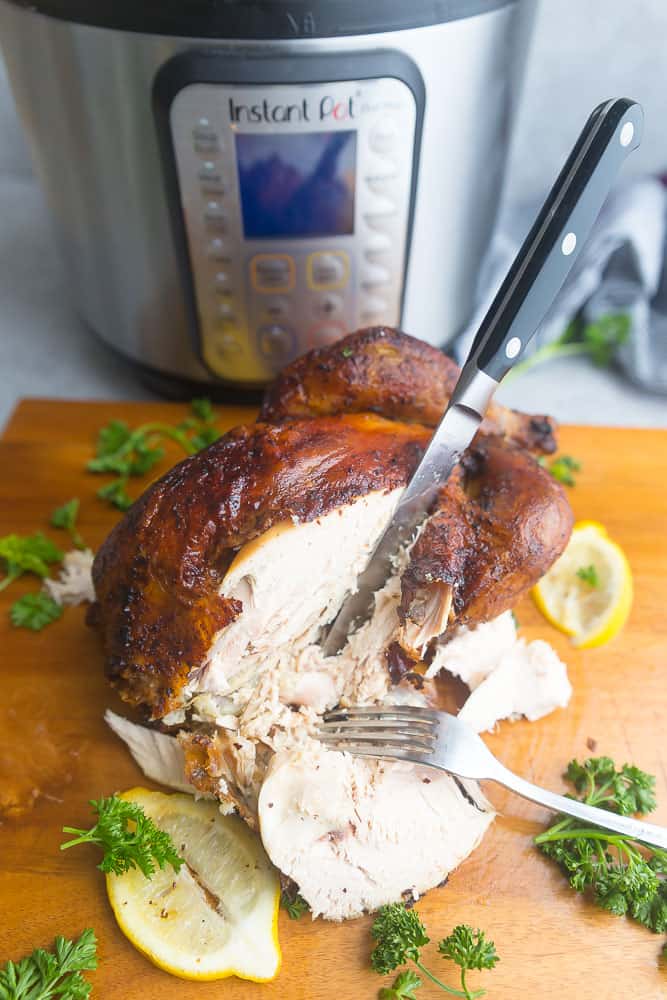 WHAT CAN YOU SERVE INSTANT POT WHOLE ROTISSERIE CHICKEN WITH?
Roasted chicken goes great with some garlic mashed potatoes, wedges or sweet potato fries.
And to keep this meal low carb, keto and paleo friendly, serve with some roasted asparagus, broccoli, cauliflower or a simple salad.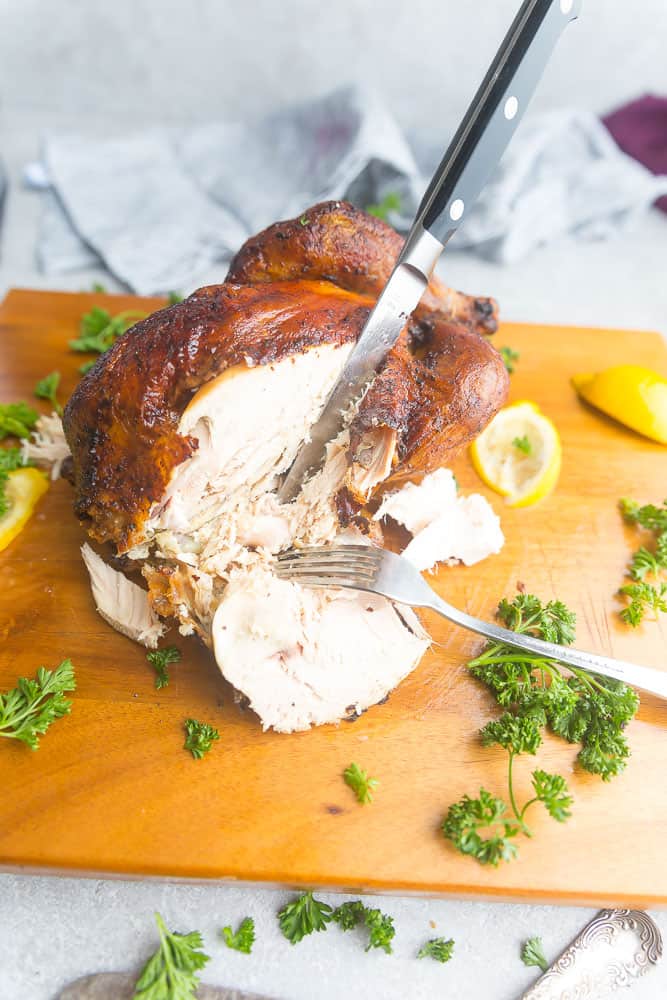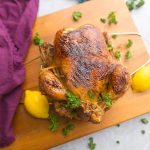 Instant Pot Rotisserie Chicken
Ingredients
1 3-4

lb

whole chicken

3

tablespoons

olive oil

2

and 1/2 teaspoons sea salt

1

teaspoon

pepper

2

teaspoon

smoked paprika

1

teaspoon

dried thyme

1/2

teaspoon

dried basil

1

teaspoon

garlic powder

1/2

teaspoon

onion powder

1/2

teaspoon

chili powder

leave out if sensitve to spice

1

onion

halved optional

2

garlic cloves

1

lemon halved optional

1

cup

chicken broth or water
Instructions
Instructions
In a small bowl, combine the salt, pepper, paprika, thyme, basil and chili powder (if using).
FOR THE INSTANT POT METHOD (THAWED CHICKEN):
Carefully loosen the skin from the chicken breast with your hands lifting and separating the meat. Gently rub half of oil followed by half of the seasonings under the skin using your hands and fingers. Next, rub the outside skin of the chicken with another tablespoon of oil and the other third of the seasonings and rub in.

Optional: place the onion, garlic cloves and lemon inside the cavity of the chicken.

Press the SAUTE button HIGH and heat 1 tablespoon olive oil.

Place the chicken - breast side down, and sear for 5-7 minutes, or until a golden brown. Using tongs and a spatula, flip chicken over and sear for another 5-6 minutes.

Remove chicken and place on a large platter. Place the trivet (that came with the Instant Pot or use another) inside the inner pot of the Instant Pot. Pour water or chicken broth inside. Place chicken on top of trivet, breast side up.

Cover and lock lid. Turn the valve to SEALING.

Press the MANUAL or HIGH PRESSURE button and set to 24 minutes if your chicken is four pounds. If it's smaller or larger, calculate how much time it should cook by multiplying the number of pounds by 6 minutes. So, a 3 pound chicken would be 18 minutes and a five pound chicken would be 30. For a FROZEN WHOLE CHICKEN - set to 42 minutes ON HIGH for a 4 lb chicken. Allow the Instant Pot to come to pressure (this may take about 10-15 minutes).

Once the 24 minutes is up and the Instant Pot beeps indicating the chicken is done, allow to naturally release for at least 15 minutes and then quick release for any extra pressure.

Open lid and transfer chicken to a platter or a large cutting board. Optional: Broil in the oven for 4-5 minutes to crisp up the skin.

Slice or shred and serve with your favorite sides.
TO ROAST IN THE OVEN INSTEAD:
Preheat oven to 450 F.

Place chicken on an oven roaster and cook for approximately 30 minutes. Cover loosely with foil and cook for an additional 40-50minutes or until temperature reads 165 F.
Recipe Notes
Save your bones in a freezer bag until you're ready and you can make Chicken or bone broth.
Nutrition Facts
Instant Pot Rotisserie Chicken
Amount Per Serving (1 serving)
Calories 234
Calories from Fat 153
% Daily Value*
Total Fat 17g 26%
Total Carbohydrates 2g 1%
Protein 16g 32%
* Percent Daily Values are based on a 2000 calorie diet.