Low Carb Guacamole – this homemade recipe is the perfect party dip and keto, paleo and Whole 30 snack. Pairs perfect with fajitas, salads or by the spoonful.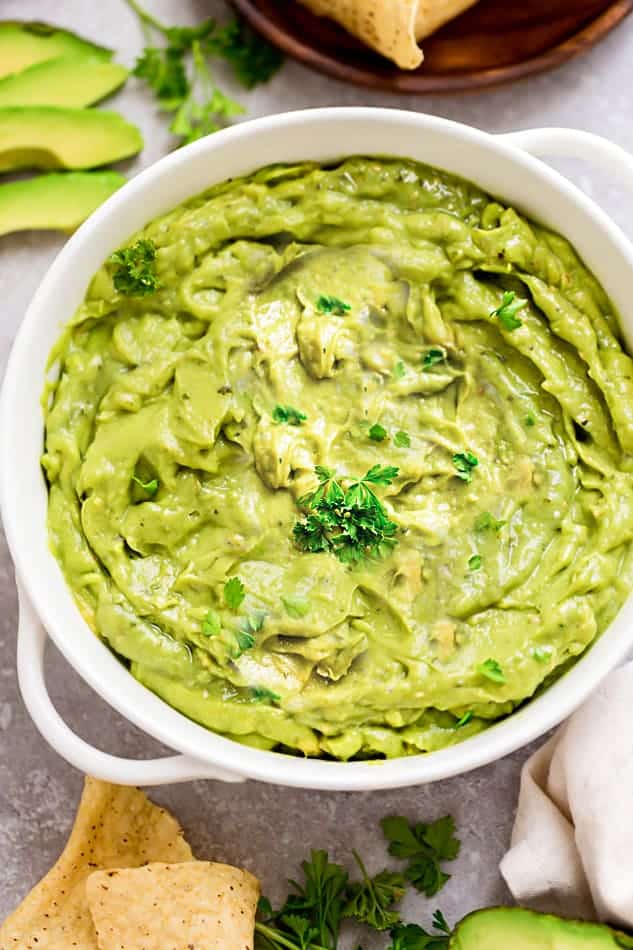 Raise your hand if you're an guacamole fan? Guacamole is one of those simple recipes that tastes a million times better when it's homemade.
It's one of the simplest recipes and it fits perfectly with a vegan, gluten-free, paleo, keto, Whole30 diet.
This Low Carb Guacamole recipe is not only healthy and delicious…it comes together super quick with just 6 ingredients.
You can easily customize it with the ingredients you have and there are a ton of things you can serve it with too.
For low carb – serve with some cheese crackers/chips, cucumber, zucchini, celery or just by the spoonful.
It also goes perfectly along with low carb tortilla chips, low carb taco bowls, fajitas and salads.

To make this easy low carb guacamole recipe, you're only going to need 6 ingredients:
diced onion
fresh Jalapeño or Serrano pepper
fresh cilantro
sea salt
ripe avocados
fresh lime juice
Optional additions: diced tomatoes, garlic, cayenne pepper or other seasonings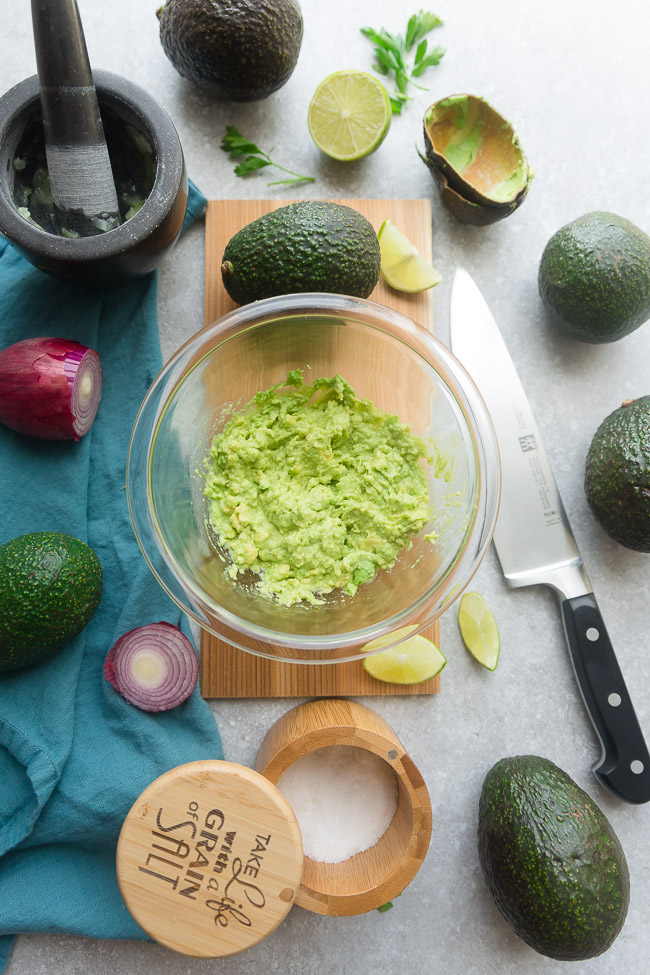 How do you choose the best avocado for guacamole?
Check the avocado skin: The darker the skin, the riper the avocado. You're going to want an avocado that is deeper in color but not all the way dark brown or black. That would be a sign the avocado has turned.
Look at the stem of the avocado: If the stem comes off easily and the color is green underneath, your avocado is just right. If it's brown underneath, the avocado is too ripe..
Check the firmness of avocado: Hold the avocado in your hand and apply light pressure, it should give a little under your fingertips. If it's too hard then it's under -ripe. If it is squishy, the avocado is overripe.
wp-image-32256″ src="https://lifemadesweeter.com/wp-content/uploads/Guacamole-Avocado-Prep-copy.jpg" alt="Homemade Guacamole – this quick and simple recipe is the perfect easy party dip with tortilla chips or along with tacos or by the spoonful. Best of all, only 6 ingredients to make for your next Mexican-inspired meal." width="633″ height="950″ />
How to make Homemade Guacamole:
Pound or process the onions into a paste: Add the onion, pepper, cilantro and salt in a mortar and pestle or food processor. Pound or blend into a fine paste.
Mash your avocados: Cut the avocados in half, discard the pits and scoop out the flesh into a medium bowl. Mash with a potato masher or large fork until desired consistency (we love it slightly chunky).
Mix in the remaining ingredients: Add in the onion mixture along with lime juice and remaining cilantro and stir until combined.
Taste and season: Taste and adjust seasonings.

For tangier: add more lime juice.
For spicier: add in more chili peppers
Add diced tomatoes, garlic or any other seasonings you like

Serve and enjoy!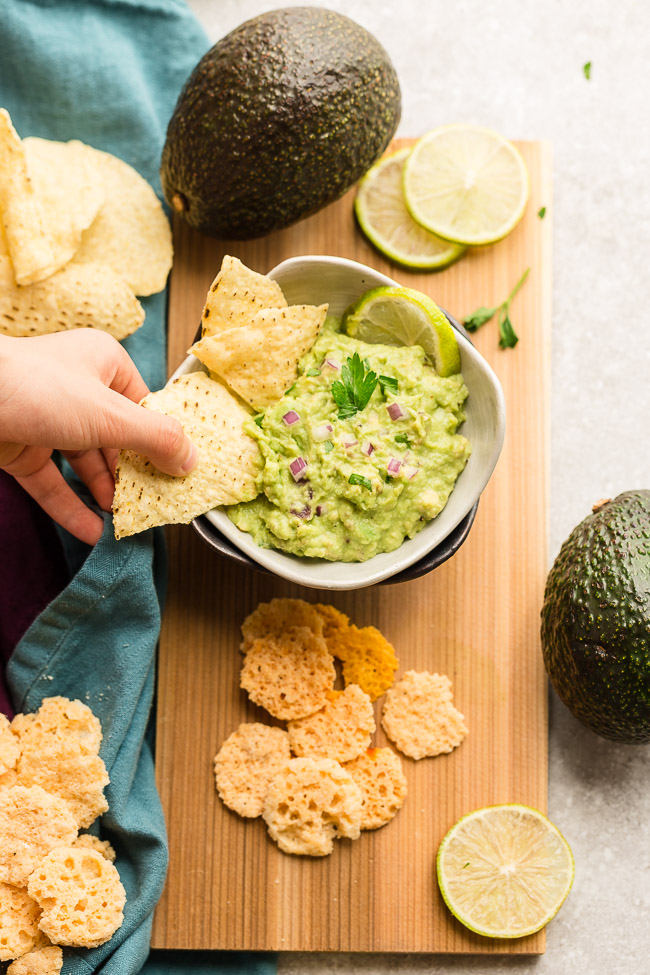 What's the best way to store guacamole?
You can make guacamole last for several days without browning by placing a halved onion on top of leftover guacamole then cover the top of the bowl with plastic wrap.
The sulfur in the onion prevents the avocado's browning enzyme from interacting with the air. This little trick allows you to make your guacamole ahead of time.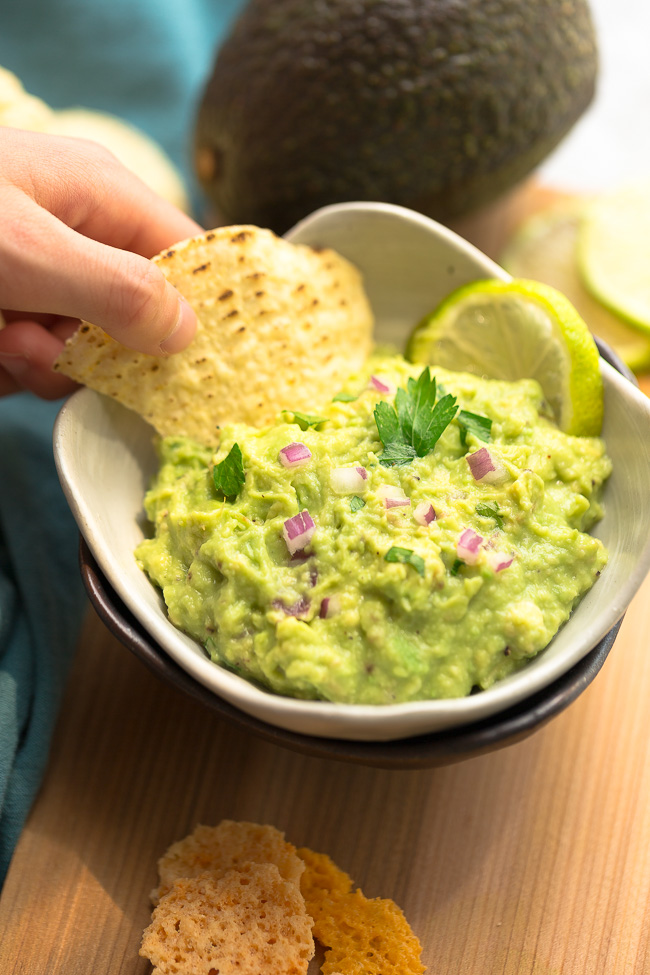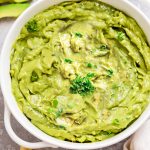 Low Carb Guacamole
Low Carb Guacamole - this homemade recipe is the perfect party dip and keto, paleo and Whole 30 snack.
Ingredients
1/4

small red onion roughly chopped

1/4-1/2

Jalapeño or Serrano chili seeds and ribs removed

roughly chopped

2

tablespoons

fresh cilantro leaves finely chopped

divided

1/2 - 1

teaspoon

sea salt

plus more to taste

2

ripe Haas avocados halved and pitted

1

tablespoon

fresh lime juice

plus more to taste
Optional additions:
Cumin, grated garlic

cayenne pepper, diced tomatoes
Instructions
Place onion, pepper, 1/4 cup cilantro and salt in a mortar and pestle or a small food processor. Pound or process into a fine paste.

Scoop out the flesh of the avocados using a spoon into a medium bowl. Roughly mash with a fork. Add the onion paste, remaining cilantro and lime juice. Fold to combine. Taste and add additional salt, lime juice and any optional toppings and seasonings. Serve immediately with warm tortilla chips.