Low Carb Deviled Eggs – 12 different ways are the perfect easy make-ahead appetizers for Easter Mother's Day or any weekend or holiday brunch. Best of all, they are low carb, keto and packed with protein.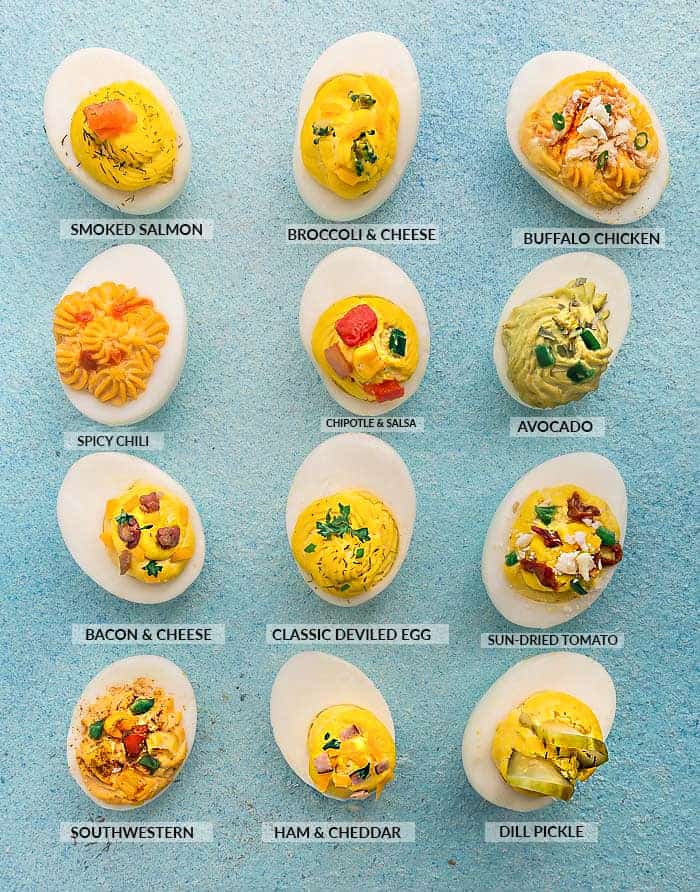 Deviled eggs are a great appetizer all year round. They are so easy to make and always a hit at any party or gathering!
If you are looking for ways to use up those hard boiled eggs, give these 12 low carb deviled eggs a try.
All you need to do is scoop out the yolks and combine them with a few simple ingredients. These elegant bites usually call for mayonnaise, mustard, salt and black pepper.
You might think that deviled eggs are too fancy, but they are actually really simple to make and customize. They are also really easy to prep ahead for Easter, summer picnics, holiday parties or a special weekend brunch / lunch.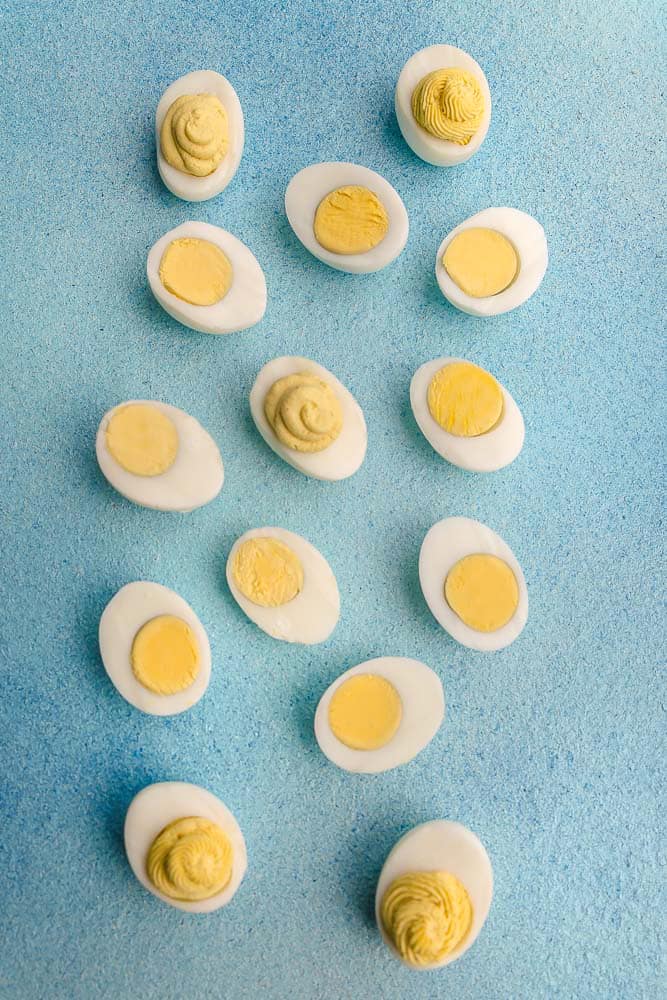 HOW TO MAKE THE PERFECT DEVILED EGGS
How do you boil your eggs?
My favorite method to make easy-to-peel hard boiled eggs in the Instant Pot. To start, place the eggs on a rack, add 1 cup of water and pressure cook for 6 minutes.
The best part is, no having to stand over the stove and wait for the water to boil over.
Plus, the shells are easy to peel and the whites are firm but still tender with creamy yellow yolks.
If you don't have an Instant Pot, I've also included a stovetop method in this post as well.
What else can I use in my filling to add flavor instead of mayo?
Most recipes for deviled eggs call for mayonnaise. If you are not a fan of mayo, try using Greek yogurt or sour cream instead.
Mustard adds the classic tang but you can also add flavor with hot sauce, lemon juice, vinegar or even pickle juice.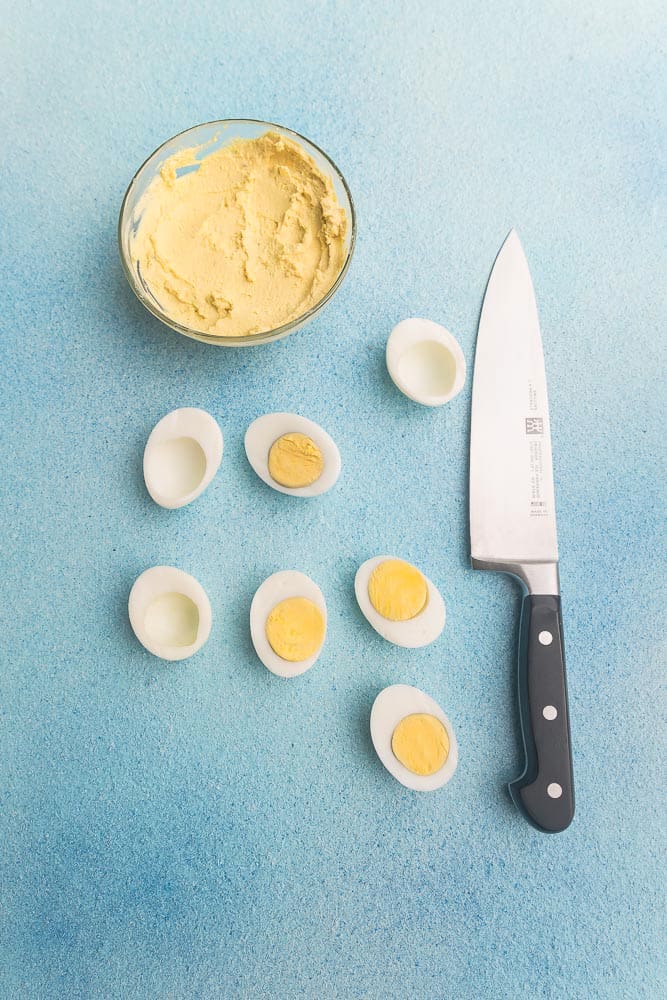 How do you fill the eggs?
You can either use a spoon to scoop the filling into the egg whites. Or transfer to a bag and pipe in the filling. Any plastic food bag should work – just scoop the filling in and snip off the corner. Elegant looking appetizers without the fuss.
Serving and Storing Deviled Eggs
Hard boiled and peeled eggs can be made 1 day in advance and stored in the refrigerator. You can also make the fillings up to 1 day ahead and store in the fridge. Just remember to store each filling in separate piping bags or in an airtight container with a layer of plastic wrap covering the filling under the lid. Spoon or pipe filling into egg white shells when ready to serve.
Do not freeze as the texture of the egg whites will become rubbery and watery.
How long can you keep deviled eggs at room temperature?
Once you add the filling, deviled eggs can be prepared up to two hours in advance if sitting at room temperature.
WHAT VARIATIONS CAN YOU MAKE WITH DEVILED EGGS?
I'm sharing 12 recipes on this post but you can totally make them all the same kind! There is something for everyone and your guests will love having so many fun options.
You're going to start off with this base recipe for all of your deviled eggs:
BASE RECIPE:
12 Hard Boiled Eggs Large Eggs, peeled and sliced in half
1/2 cup mayonnaise
1/2 teaspoon sea salt
Slice each egg in half lengthwise and scoop out the egg yolks into a large bowl and mash into a crumble with a fork.
Add mayonnaise and salt.
Classic Deviled Eggs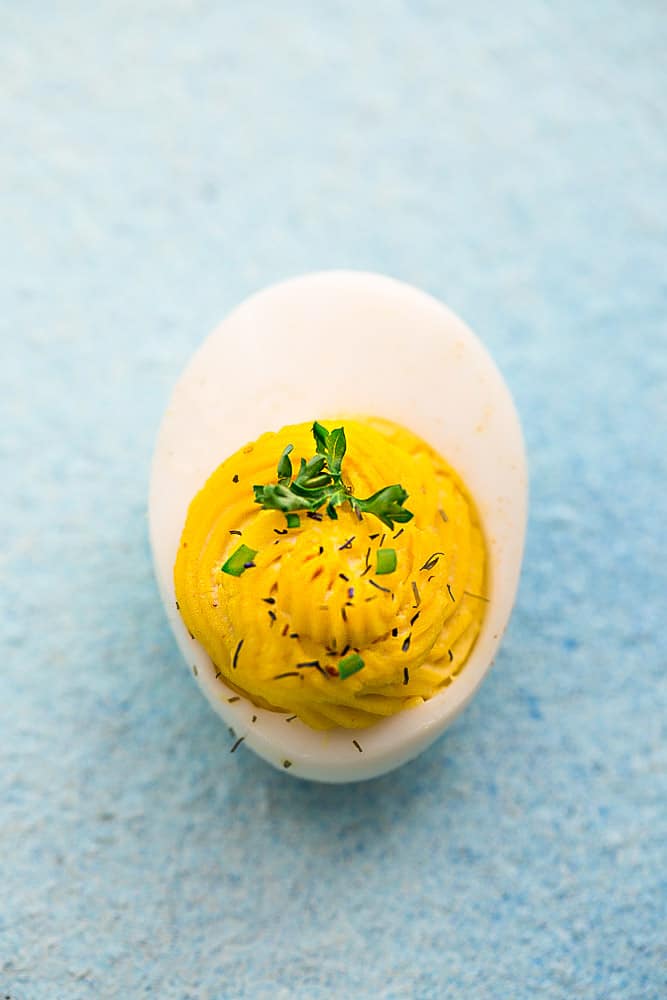 Add mustard, vinegar and black pepper. Mash (or beat with a hand mixer) until combined and smooth.
Spoon or pipe yolk mixture into egg white halves.
Top with a sprinkle of paprika and garnish with chives & parsley (if desired).
Smoked Salmon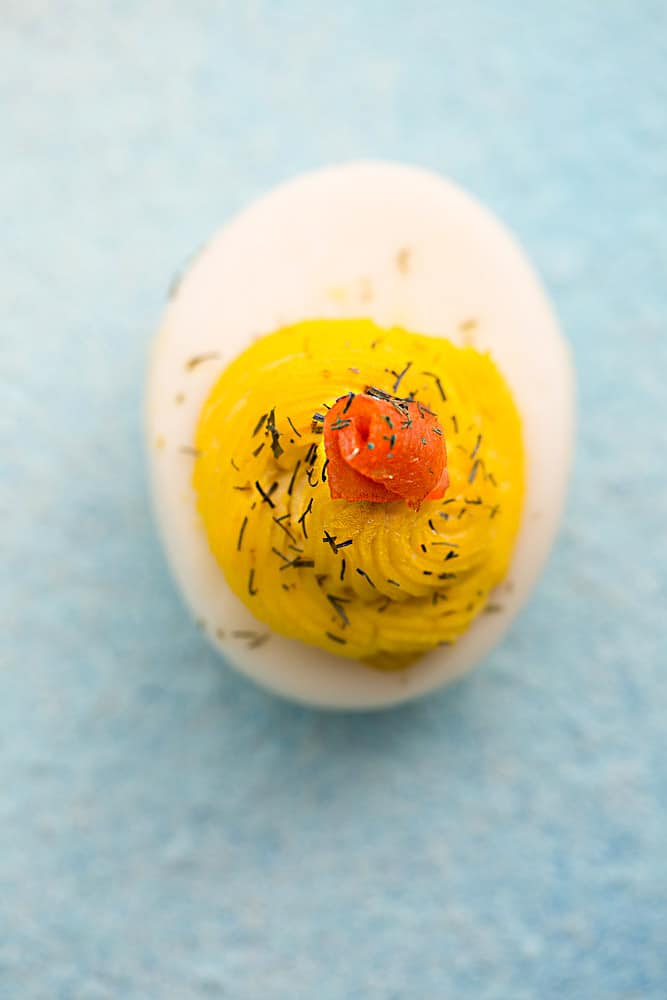 Add mustard, cream cheese, lemon juice, dill and black pepper. Mash (or beat with a hand mixer) until combined and smooth. Stir in capers and smoked salmon.
Spoon or pipe filling into each egg white.
Top with desired amount of smoked salmon pieces and dill.